When it comes to selecting somewhere to stay on or around Moreton Island, visitors have boundless options. The third largest sand island in the world is home to Tangalooma Resort and Castaway Units and Glamping Tents. Both of which offer hotel-style accommodation on Moreton Island.
For those who are a little less inclined toward luxury and would like to spend a few nights under the stars on Moreton Island, there are 6 campsites and a number of bush camp zones to choose from.
Further afield are the Moreton Island accommodation options in Brisbane and Gold Coast. Both of which offer luxuries and experiences you can only find off-shore.
Tangalooma Resort is perhaps Moreton Island's most well-known accommodation option. Partly because it is steeped in rich history.
The property was not always a tourist resort but rather it started out as Queensland's only whaling station and it wasn't until the 1970's that Tangalooma changed ownership and became the resort we know today.
Tangalooma Resort is great for couples and families alike. Their Moreton Island accommodation ranges from hotel rooms to apartments and private villas with incredible views.
They have all the amenities you would find on the mainland and more.
There are over five restaurants, two pools, tennis courts and on-site shops to explore at Tangalooma Resort.
But if there is one thing you cannot miss well staying at Tangalooma it is their wild dolphin feeding experience which is held every evening on the resorts' shores.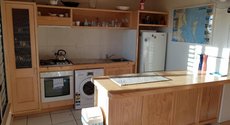 The Jetty at Cowan Cowan
From $196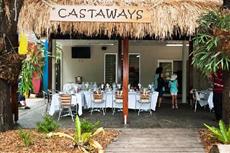 Castaways Moreton Island
From $88
Castaway Units is a more understated Moreton Island accommodation option. Located just 100 meters from the beach in the thriving town of Bulwer, visitors staying at Castaway Units will be treated to all the delights of island life.
This accommodation on Moreton Island offers holiday units and glamping tents.
Plus, there is an on-site restaurant is famous amongst locals for its excellent breakfast menu.
Camping and Moreton Island Campzones
If camping is what you're after, then you are in luck because Moreton Island has a plethora of spots to choose from.
North Point, Comboyuru, Blue Lagoon, Ben –Ewa and The Wrecks are the main Moreton Island National Park campgrounds.
Visitors can reserve their spot online beforehand at the affordable price of $6.55 per person or $26.60 per family year-round (no peak season hikes!).
Otherwise, visitors can grab their 4WD and head into the bush for some peace and quiet in one of the island's many camping zones.
Off-Island Accommodation
For that love the city glam, Brisbane and Gold Coast are just a hop, skip, and a jump from Moreton Island. Brisbane is a cruisy 75-minute ferry ride from Moreton while Gold Coast is under an hour from Brisbane.
Cosmopolitan Brisbane is Australia's third largest city and a great place to stay while visiting Moreton Island. Partly because it gives context to the history of Moreton island. Since Moreton Island played such a large role in the development of the city.
There is something for everyone staying in Brisbane. Hotels, motels, hostels- you name it Brisbane delivers. Staying in Brisbane also gives visitors the opportunity to experience nightlife and dining options that you would never be able to find on the island.
Like Brisbane, the city of Gold Coast has a number of accommodation, nightlife, and dining options you couldn't find on Moreton Island. However, it differs from Brisbane in a few key areas.
Gold Coast is home to some of Australia's most iconic beaches including Surfers Paradise and Nobby Beach. It has an undeniably laidback atmosphere that visitors will find in few other cities around the world.
Thanks to The Island's unique location, finding suitable Moreton Island accommodation for any taste and budget should be a breeze.
Perhaps, the only problem is that there are too many great places to choose from!